Organising commitee List (download Pdf)
Dear Colleagues,

You are cordially invited to 40th KAROPHTH, ANNUAL CONGRESS OF OPHTHALMOLOGY 2019 to be held in Karachi from 23rd to 25th August 2019 in Movenpick hotel.
The theme of the conference is Recent Advances in Ophthalmology. An extensive scientific program, academically rich and intellectually nourishing covering all the important aspects of Ophthalmology will be deliberated in the congress. For the first time we are incorporating National Conference on Medical Education in Ophthalmology, in this congresswhere the renowned teachers & educators from International Council of Ophthalmology will discuss various aspects of medical education.
We are also having first National Symposium on Retinoblastomain this conference where national and international speakers will discuss various therapies for this deadly disease.
The organizing committee is infused with zeal and enthusiasm to make this conference an unforgettable occasion with dissemination of the latest scientific knowledge from the experts within the country and abroad along with the social and cultural program. It is expected that renowned national, regional and international experts in the various ophthalmic sub specialties will feature in the conference.
We wish to invite each and every one of you to participate in the conference and have the scintillating experience of the latest scientific knowledge along with the social side of Karachi.Of course it goes without saying that occasion will provide opportunity to meet fellow colleagues and friends.
We, on behalf of the organizing committee, request you to mark your calendar from 23rd to 25th August and be part of an absorbing experience. We look forward to welcoming you and assure you of traditional warm hospitality of Pakistan in Karachi, the city of lights.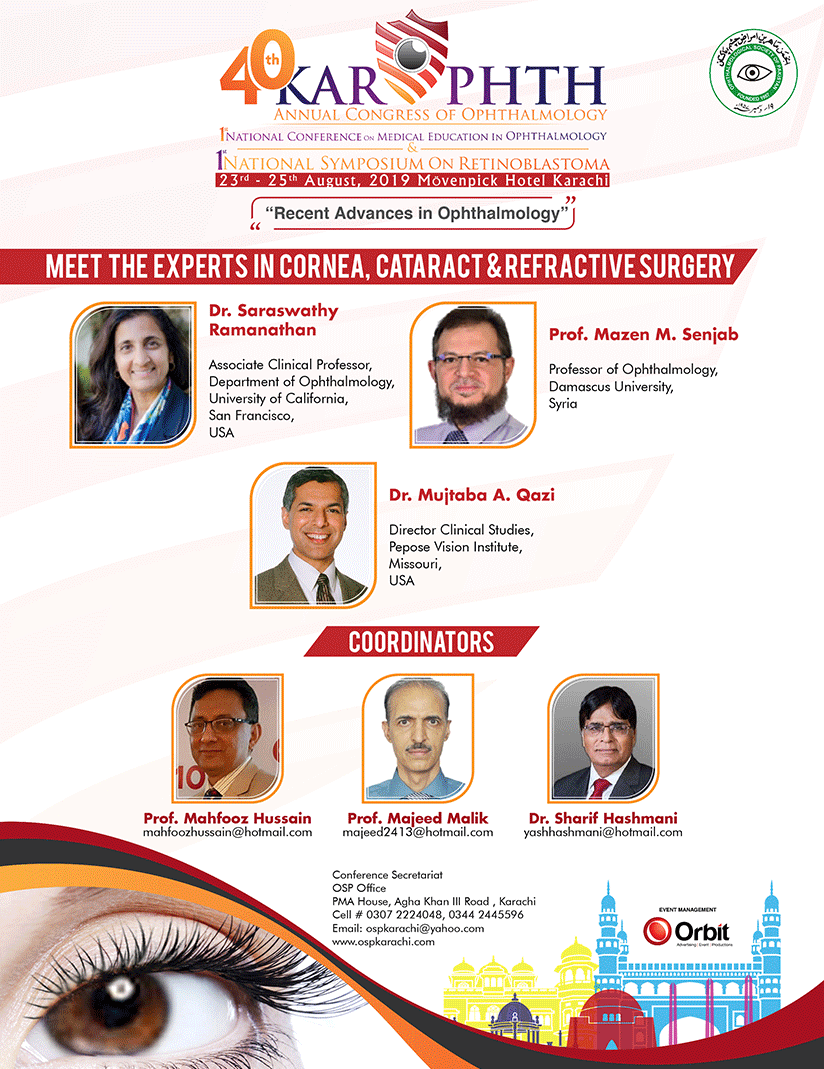 Prof. Nadeem H. Butt
Congress President
President OSP Center

Dear Friends and Colleagues

It is a matter of great pleasure as the President, Ophthalmological Society of Pakistan to welcome you all to the 40thKAROPHTH, the Annual Conference of Ophthalmological Society of Karachi Branch, with 1st International conference on Medical Education in Ophthalmology and national symposium on Retinoblastoma. I am proud to bring you greetings from almost 3000 Pakistani Ophthalmologists who are members of this Society and are based in all parts of the country and abroad.

The need for the eye care grows as the population grows and ages. Karachi being the largest, most populated and cosmopolitan city of Pakistan faces huge challenges in meeting these needs. It is also the business hub of the country, therefore the Ophthalmologists of Karachi face a large variety of patients from Karachi, interior Sindh and visitors from other parts of country and abroad. There is a huge workload that they have to cater for. The annual KAROPHTH Conference forms the perfect opportunity for all of us to hear the latest advances in diagnosis and treatment and how we can provide better eye care to our communities and especially in this part of the country.

Our future generation of Ophthalmologists need to be well trained to meet these challenges and OSP led programs in collaboration with ICO and AAO and newly developed task forces provide an excellent platform for education, research and collaboration. I know the organizers of 40thKarophth have worked very hard to prepare an excellent scientific program and an outstanding cultural and social program. I am sure you all will be looked after very well.

My best wishes for a great conference

Prof P.S Mahar
Chairman Organizing Committee
President - OSP Karachi

Dear friends and colleagues
It is with great pleasure that I welcome you to 40thKAROPHTH 2019 Congress and 1st National Conference on Medical Education in Ophthalmology and 1st National Symposium on Retinoblastoma. This congress promises the best of ophthalmic expertise from our local, national and international speakers, and will give you insight on the latest scientific innovations, surgical techniques and medical treatment.
This forum also provides you to meet your old friends and establish new friendship. I must extend my heartfelt thanks to Prof. Mazhar-ul-Hassan, Secretary Organizing Committee, Dr. WasiqQazi, Co-Chairman Organizing Committee and Prof. Fawad Rizvi, Chairman Scientific Committee for their tireless efforts in organizing this meeting.
It would be great of you to come to Karachi, City of Lights to enjoy its culture, vibrant lifestyle and beautiful beaches and go back with wonderful memories. I look forward to seeing you in Karachi.

Dr. Qazi M. Wasiq
Co- Chairman Organizing Committee


President Elect - OSP Karachi

Dear friends and colleagues

It is with great honor and pleasure that I welcome you all to the 40thKAROPHTH 2019 Congress and 1st National Conference on Medical Education in Ophthalmology and 1st National Symposium on Retinoblastomafrom 23rd – 25thAugust 2019, at Movenpick Hotel Karachi.

Karachi is socially liberal coastal city of Pakistan. It is the economic hub and city of lights, with cool sea breeze from Arabian Sea to enjoy excellent weather. We wish truly memorable experience for all.

The Scientific committee chaired by Prof. Fawad Rizvi has planned a comprehensive scientific program.

The scientific exhibition of ophthalmic instruments, equipmentsand pharmaceuticals placed under one roof at Karophth has always been a great attraction and appreciated by all. President Prof.Mahar,General Secretary Prof. Mazhar and organizing committee OSP Karachi has really worked tirelessly to make this mega event a great success. It is hoped that all the delegates and visiting guests from upcountry/overseas will carry back scientific knowledge and sweet memories of traditional hospitality of Karachi.

Prof. MazharUl Hassan
Secretary - Organizing Committee


General Secretary - OSP Karachi

Asalam o alikum
I am prof. Mazharulhasan general secretary ophthalmology society of pakistankarachi chapter. On behalf of ophthalmological society of pakistankarachi chapter. I welcome you all at the mega event KAROPHTH2019 being held on 23rd – 25th August 2019 at Movenpick hotel Karachi.
We have tried to make the conference full of latest knowledge regarding surgical and medical ophthalmology, enhance the leadership capability and a wonderful gathering of national and international ophthalmologists. Inshaallah the scientific session will be rich and well organized pre conference workshop and leadership enhancement program will be the source of grooming of young ophthalmologists.
As you know the city of lights "Karachi" is the mini Pakistan, rich in culture and heritage.During the month of august the weather will be pleasant and temperature will be in between 28◦ to 30◦ C. The city of Karachi is the city of shopping mall, seaside resort and many more. Inshaallah you will enjoy the weather and conference as well. Welcome to 40thKAROPTH 2019.

Prof. Syed Fawad Rizvi
Chairman - Scientific Committee


OSP Karachi

Dear Colleagues,

I welcome you all on the occasion of 40thKAROPHTH 2019 Congress and 1st National Conference on Medical Education in Ophthalmology and 1st National Symposium on Retinoblastoma. This conference will raise the most dynamic and latest issues in the field of Ophthalmology.

The Congress will highlight the discussion around the theme "Recent Advances in Ophthalmology" by bridging the gaps between the intellectuals from across the globe to enlighten their research and findings.

Thank you!